Water Slide Rentals in San Benito
Purple Splash - (17 Ft.)
Slide & Splash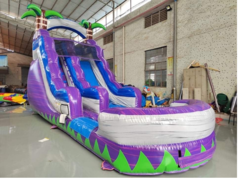 Sky Mountain - (27 Ft.)
Makes Waves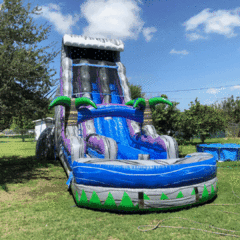 Green Crush - (20 Ft.)
Slide & Splash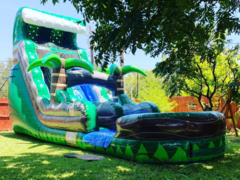 Fire Ball - (20 Ft.)
Slide & Splash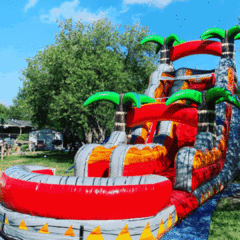 Skysaurus - (21 Ft.)
Slide & Splash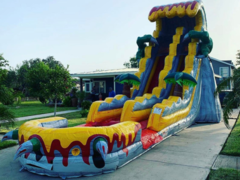 Tropical Crush - (24 Ft.)
Wipe Out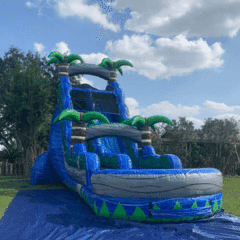 Purple Wave- (20 Ft.)
Splish Splash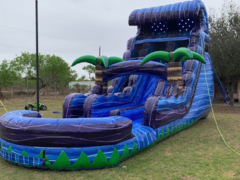 Palms Up- (20'x53')
Lets Slide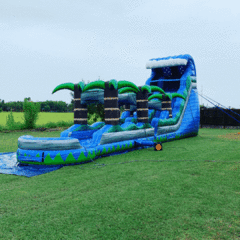 Blue Splash- (17 Ft.)
Slide & Splash
Originally:
$215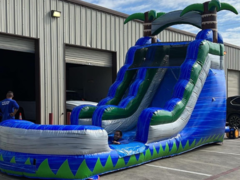 24ft Splash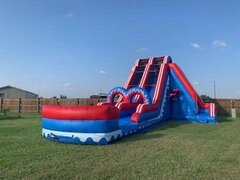 Splash Park- (24'x41')
Adult Fun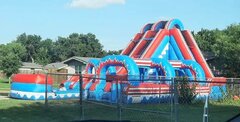 Splash Park XL- (24'x81')
Adult Fun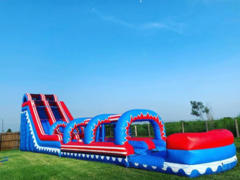 Sky Park
Originally: $399
Sale Price: $349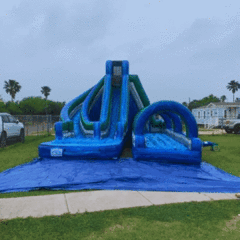 Boulder Falls- (17 Ft.)
Slide & Splash
Reg:
$215
Sale Price: $199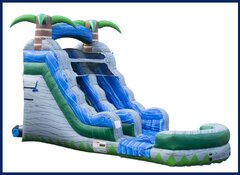 Tropical Blast- (17 Ft.)
Slide & Splash
Reg:
$215
Sale Price: $199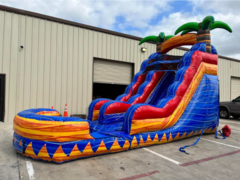 Bounce House Rentals Are A Hit At All Parties in San Benito and the surrounding communities!

If you are looking to give your guests some fun at your next party, our bounce house rentals in San Benito, TX are the perfect option. Everyone loves to bounce and everyone loves a slide. These inflatables combine the two into one item giving your guests the option to experience the thrill of both. Whether you're looking to have a backyard birthday party, a graduation party at Casa De Sol or even a school or church event for any of the wonderful organizations in San Benito, TX.

Each one features a large bouncing area, but these come with a few more features to keep the kids entertained even longer. Inside the children will find a basketball goal to shoot some hoops with friends while bouncing around, and many contain interior obstacles like pop-ups to raise the challenge. They also have stairs to climb to get to the top of the slide where the excitement is waiting.

Are you ready to bounce and slide while creating smiles and laughter all day? We thought so! Sky High Rentals is a guaranteed hit at San Benito parties with our selection of some of the most popular bounce house with slide rentals in the RGV and the surrounding communities. Our slide rentals have become a favorite attraction at parties, corporate events, school functions and religious festivals. The combination of a bounce house and a slide together has made those events even more fun. As it is one inflatable instead of two separate pieces, they take up less space at your event but are also safer too. Instead of having to watch children on two different items, your party guests will be on the same piece which gives parents a better piece of mind.

Kids ages 3 and up love our bounce houses with slides because of the added versatility and bonus features. Some children get tired of just bouncing around for hours but when you throw in some balls for the goals and also have a slide, it just adds to the entertainment. They are great for backyard birthday parties, school functions, church gatherings, family reunions, and much more. Your guests will enjoy hours of excitement and joy on our quality combo bouncer. Browse our awesome selection of combos today and book online now!

Sky High Rentals has the newest inventory of bounce house with slide rentals in the area. As parents ourselves, we also know how difficult it can be to plan a party. We strive to take the stress out of the process with our online ordering. Simply select from our website by either clicking on the image or the Info and Pricing link. You can also add these items straight to your cart by clicking the Add To Cart button to get started. After that, give us your party details and pay a small deposit (or pay in full) and you're all set. It's super easy to do and once you're done we will send you a confirmation email! We can't wait to be a part of your party when we deliver one of our bounce house with slides to your party!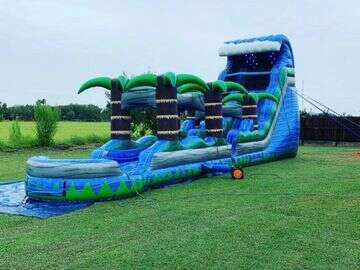 Featured Water Slide Rental for Weslaco
20ft Palms Up
The 20ft Palms Up water slide is sure to bring some excitement to your next party. The bright colors and large palm trees are sure to stand out.

Features of the 20 ft Palms Up Water Slide:

20 ft tall will give everyone a thrill
Slip and Slide at the bottom of the slide gives an extra bit of fun
More Info
Easy Online Ordering & Perfect For All Occasions
Select the Date and Times of your party or event.
Everything displayed after date selection is AVAILABLE for rent.
Select the items you are interested in.
Input your information, as well as where the event will be held.
Pay a small deposit or pay in full.
Instant email order confirmation = Peace of Mind
Backyard Parties
School Events
Church Festivals
Sporting Events
Corporate Events
and More!
Yes, We Deliver Water Slides in Weslaco!
Our Service Area
Proud to Serve The Following Areas:
If your party or event is beyond that radius, just let us know! We may be able to make special accommodations to suit your event.
NOTE: Fees may vary depending on your location.
People Who Rented Water Slides in Weslaco Also Rented: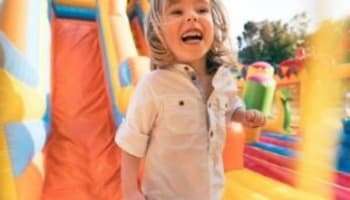 Bouncer with Slide
Everyone loves a bounce house and these bounce house with slide combinations bring all the fun of a bounce house with the addition of an attached slide. Who could ask for a more fun way to spend the day?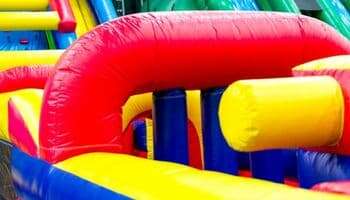 Obstacle Courses
Our obstacle courses are guaranteed fun for multiple people. Obstacle courses are great for any event and also make great team-building activities for a company, sports team, or any party!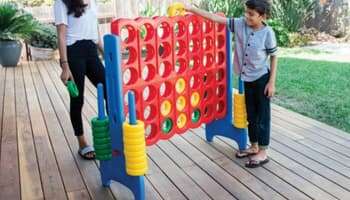 Back Yard Games
Our Back Yard Games are sure to be a hit. They are perfect additions to any party and will give everyone something to do while they aren't sliding down your water slide.
Frequently Asked Questions about Weslaco Water Slide Rentals