40x80 Tent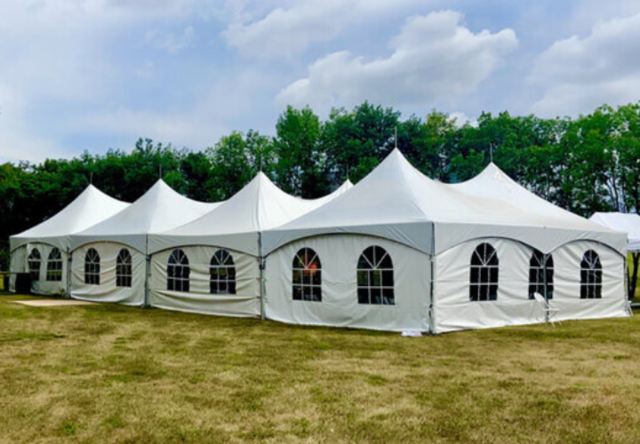 Party One Day or All Weekend!
| | |
| --- | --- |
| Regular Price | $1,495.00 |
| 3 Day Pricing | $2,990.00 |
*Excludes Holidays
*Price Shown is for Residential Only
Description
Create a stunning and elegant outdoor space for your special day with our 40x80 wedding tent. With ample room for up to 350 guests, this tent is the perfect size for large weddings and events. The tent features a spacious interior, with high ceilings and ample natural light, providing a bright and airy atmosphere for your guests.
Our 40x80 wedding tent is made from high-quality materials and features durable, weather-resistant construction, ensuring that your event will be protected from the elements. The tent comes with a variety of options, including sidewalls, windows, and lights, making it easy to customize the space to suit your needs.
The 40x80 wedding tent provides a versatile and flexible space for event planners and couples to create their dream wedding. The tent can be decorated and styled to match any theme and color scheme, making it a perfect canvas for creating a memorable and unique wedding experience. The tent is easy to set up and take down, and our team of experienced professionals will ensure that every detail is taken care of, leaving you with a stress-free event planning experience.
Whether you're planning an intimate celebration or a grand gathering, our 40x80 wedding tent is the perfect solution for creating a beautiful and memorable outdoor wedding space. With its spacious design, high-quality construction, and customizable options, it is the ideal choice for any couple looking to make their special day truly unforgettable.